Los Angeles Jewish Home's Statement Against Racism
Posted on June 11, 2020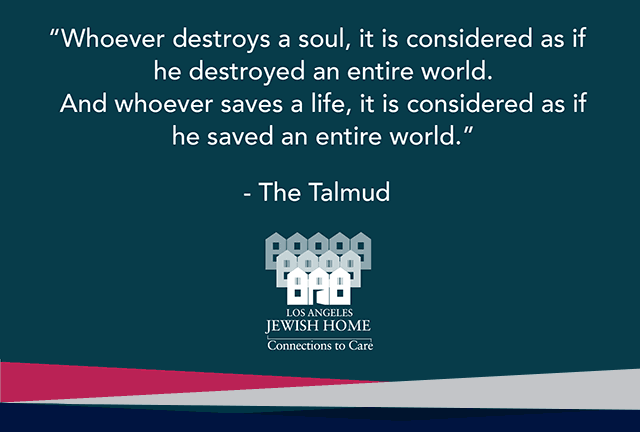 The Los Angeles Jewish Home shares the feelings of many Americans. Shock. Horror. Sadness. Outrage. Condemnation of the institutional racism that led to the murders of George Floyd, Breonna Taylor, Ahmaud Arbery and many, many others. We mourn the loss of their lives and join in the demand for change now.
Racism is cruel. It springs from a long-held hatred, prejudice, and violence against "the other." As a 108-year-old Jewish not-for-profit, our practices are rooted in the Jewish value of justice and a belief in the sanctity of life. We grieve with our neighbors and together reject the systemic racism and acts of hate we have seen. The LA Jewish Home is a reflection of the richness in diversity that make Los Angeles the incredible city and society it is. Diversity and the blessings it brings make us wiser and stronger—as a society, we are immeasurably richer.
We often think we are doing our best until something reminds us we can still do better. And so, today, we pledge to redouble our efforts to promote, justice for all. And we will fight for an America that fulfills the dreams we all share: A just America shared by everyone. No matter the race, age, religion, gender identity or personal viewpoint, America is us—all of us together.
For those of us grieving, it is impossible to offer more eloquent or better qualified advice than the two words we heard from a longtime resident here who survived a Nazi concentration camp: "Never hate." Americans do not hate. We have changed the world before and with others, resolve to do so again. Our work is to repair the world we have been gifted and ensure justice for all.
Andy Berman
Chair of the Board
Los Angeles Jewish Home
Molly Forrest
CEO and President
Los Angeles Jewish Home

Los Angeles Jewish Home • 855.227.3745 • www.lajh.org
7150 Tampa Ave, Reseda, CA 91335
© 2020 Los Angeles Jewish Home. All Rights Reserved.